Fashion
Latest Wedding Party Wear Designer Suits For Women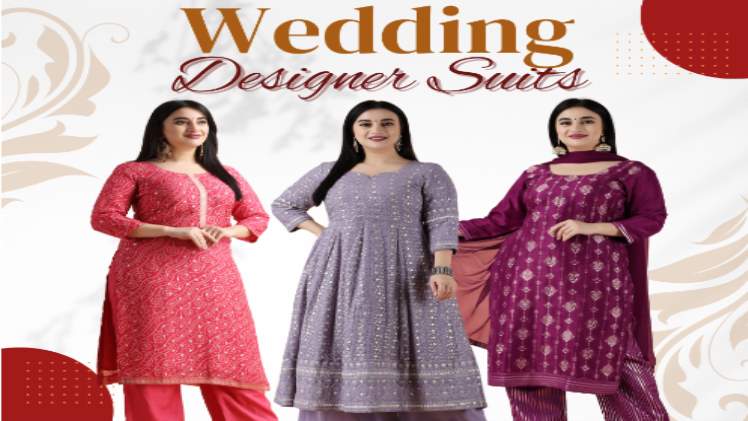 The wedding function is the best way to define your beauty and style. Many women prefer Indian Ethnic wear during the wedding season. Because these suits are fashionable, comfortable and easy to carry at the same time. In the world of fashion, style refers to clothes, jewellery and accessories that are not only modish but also exude an aura of culture.
One of the most popular wedding attire among women is the fancy party wear suit set. A designer suit set looks traditional and feminine and can be worn on various wedding occasions like Haldi, Mehendi, Sangeet and Cocktail parties. If you are looking for the latest wedding party-wear designer suits for women that will make you look graceful, then this blog is for you.
There are numerous ways to style a wedding party-wear designer suit sets. You can wear it with sandals and accessories for a pretty look. Here are some party-wear designer suits for ladies to look stunning:
1. Timeless Anarkali Suits
Anarkali suits are very popular among Indian women. They are made of flowy fabrics and have fitted bodices. The anarkali suit is flared and can be knee-length or floor length. This type of designer anarkali suit sets looks elegant and is perfect for wedding functions like weddings and reception parties. You can also wear it at family gatherings, special functions and festivals.
Know trending news from Basic White Gi So Special
2.Churidar Salwar Suits
The churidar salwar suit is a timeless classic that can never go out of style. This traditional Indian outfit is perfect for wedding functions like Haldi ceremony, Mehendi ceremony and Sangeet ceremony. These suits are available in various bright hues, breathable fabrics and unique designs to suit your taste. These ladies suit sets are perfect for those who want to make a fashion statement.
3.Flowy Floral Suits
Floral suits are trendy these days and are perfect for wedding functions. You can discover a wide variety of floral designs, from large bold prints to small delicate ones. Choose your favorite design according to your body type. Floral suits are perfect for Mehendi and Sangeet functions. Combine it with matching jewelry and high heels.
4.Elegant Printed Suits
Ladies printed suits are very popular these days. You can discover different beautiful colors, unique patterns and latest designs. Choose your favorite design that goes well with your attitude and personality. You can wear these suits in Haldi and Mehendi functions. If you add some charm to your wedding look, you can go for a printed suit. They are very stylish and offer a beautiful look.
5.Graceful Embroidered Suits
Embroidered suits are very trendy and give you a comfortable feel. These suit sets are perfect for every lady of all body types. They are perfect for wedding functions and parties. You can opt white embroidered suit with embroidered dupatta at a wedding ceremony. Match it with minimal jewellery and strappy heels.
Party wear designer suits have become the ultimate choice for women. We have a wide collection of Fancy Suits For Women, Party Wear Sharara Suit, Party Wear Dress Material, Organza Silk Suit, Party Wear Kurta Set For Women and Party Wear Salwar Suit in sizes from XS To 10XL. It gives you the best styles, fabric quality as well. That's reason enough to choose them for wedding functions, festivals,  parties or casual outings. So, What are you waiting for, check out the latest party wear designer suits on our website.